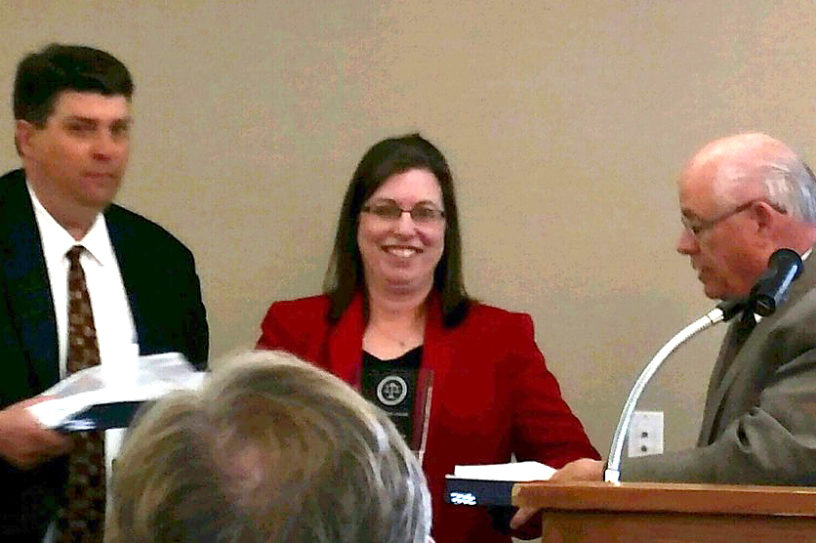 Law Day award given to Bommarito, husband
Zolton Law Offices Attorney Lori L. Bommarito and her husband, Alex Bommarito (Bommarito Law Offices PLC), received the F.H. Martin Award because of their local involvement in Law Day.
About Law Day
President Dwight D. Eisenhower made a proclamation in 1958, which launched the first Law Day. According to the State Bar of Michigan website, Law Day "… is a chance to strengthen our great American heritage of liberty, justice and equality under the law." The State Bar, along with local bar associations including the Saginaw County Bar Association, conduct a variety of programs dedicated to improving the public's impression of our justice system.
Many events take place and a theme is chosen each year. These include an opportunity for local students of all ages to design a billboard and write an essay. High school students can also take part in mock trial events. Lori and Alex have had the honor of serving
as attorney-advisors to local high schools, coaching their mock trial teams the past 13 years. They also have served as the chairs of Law Day during their separate time as vice-presidents of the Saginaw County Bar Association. Lori has advised Hemlock, Heritage and Freeland high schools. She sad, "Working with the high school students to prepare them for their mock trial experience is a most enjoyable experience for me."
More about the award
The F.H. Martin Award was named after the late Fred H. Martin. He, along with his two brothers, founded the law firm of Martin & Martin in 1952. Today, the firm, in part, remains based on Court Street. Fred H. Martin was instrumental in starting Law Day events in Saginaw County. One or more local attorneys receive the award in observance of Law Day in recognition of the great contributions made by Martin in support of the Saginaw County Bar Association Law Day Program. To receive this award is a true honor. Zolton Law Offices is proud to have Lori and Alex selected for this award among 400 eligible local attorneys.